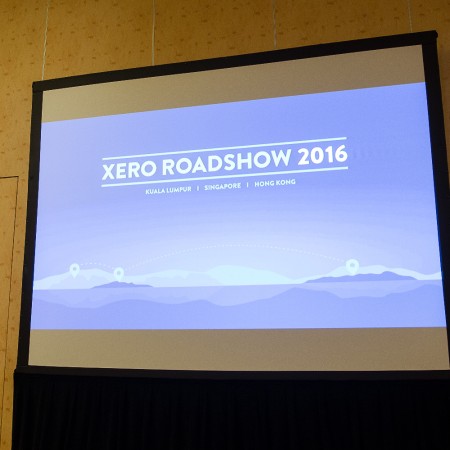 Xero, one of the leaders in cloud-based accounting software, announced the opening of their new office in Singapore in March 2016, and along with it came a host of significant announcements which we have covered below. As Xero Singapore Gold Partners, we were on the front seat of all these updates presented by Xero.
First, an on-the-ground report of our trip to London in February for the famed XeroCon.
Xero Conference London 2016
Our CEO Namita Sethi and Futurebooks Senior Accountant Savitha Raman attended this year's Xero Conference in London which saw over a thousand participants during the two-day conference. Our team, as well as Xero customers, partners and tech enthusiasts alike, were treated with great fanfare prepared for them by the organisers.
The most intellectually stimulating topic during the conference was the emergence of machine learning being built into Xero's platform, which along with a new way of looking at Xero as a Financial Web platform means a host of exciting possibilities opening up for accountants to be strategic advisors, and for small businesses in terms of enhanced access to capital.
The conference has given everyone an opportunity to network with like-minded professionals, link-up with add-on partners as well recognise successful collaborations (congrats to Chaser for getting that Add-on of the Year 2016 Award).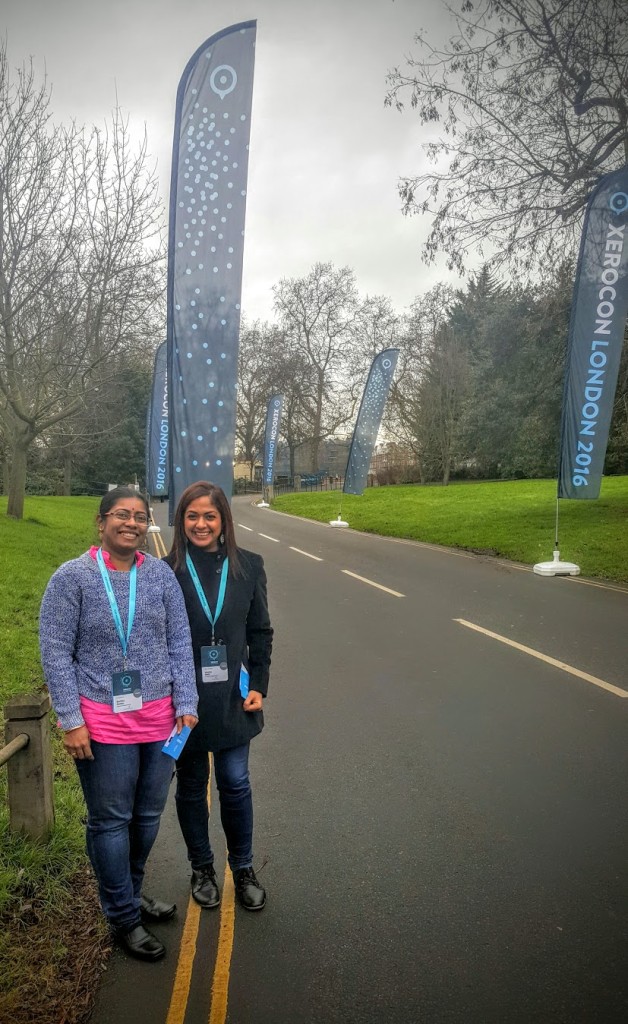 All roads lead to the Xero Conference London 2016. During the event, Futurebooks was represented by (L-R) Senior Accountant Savitha Raman and CEO Namita Sethi.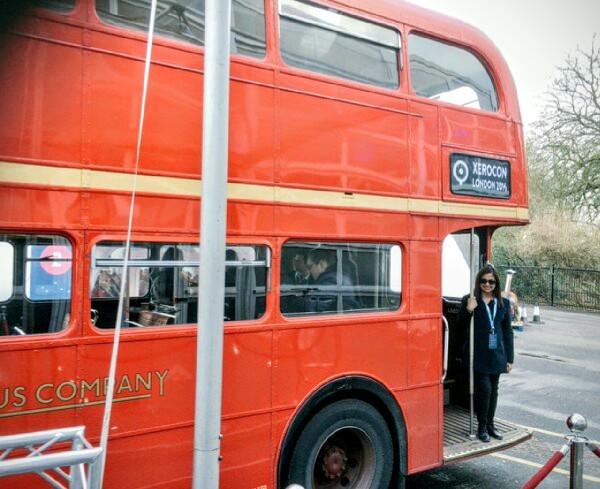 Namita Sethi, CEO of Futurebooks, took the Xero-ised iconic London red bus during the Xero Conference in the city.
We are proud to say that Futurebooks is one of the very few attendees who travelled thousands of miles just to be in this event.
Xero Roadshow Singapore 2016
Xero's recent visit to three key countries in the region, Malaysia, Hong Kong and Singapore, cements the next phase of their growth plans. With the exponential growth of Xero in New Zealand, Australia and the UK, it is impossible to miss out on one of the biggest markets in the world.
True to Xero's purpose of enabling small businesses to thrive through their software, advice and connections, their focus on Asia fits well with the region's profile, as small and medium businesses alone account for 97% of all enterprises across APEC economies1.
Andy Lark, Xero's Chief Marketing Officer, shares how Xero is opening up to Asia to help the region's accountants, bookkeepers and small businesses thrive and grow.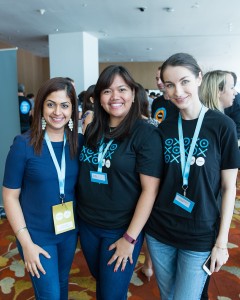 The three ladies from Futurebooks who joined the Xero Roadshow in Singapore: (L-R) Namita Sethi, Joyce Bibby, Valentina Chemodanova
Here are just some of the great news which Xero has shared with everyone during their roadshow in Singapore:

First Xero office in Asia
Xero's expansion plans include opening a Singapore office, their first ever office in Asia. The new Singapore office, led by Regional Managing Director Alex Campbell, was tasked focus on Xero's business in Singapore, Malaysia and Hong Kong.

Exciting partnerships
Investing in local partners is clearly a step forward for Xero as part of its expansion. That is why we are thrilled to hear about the series of strategic partnerships which Xero has formed in Singapore and the region.

Visa's IntelliLink will soon be integrated in Xero and will be made available in Hong Kong, Malaysia and Singapore. The web-based tool will help users manage cash flow by being able to monitor and claim expenses easily.

In addition to existing payroll partners Talenox and SimplePay, HReasily will help streamline HR work processes such as payroll processing, leave management and claim applications. This new add-on partner of Xero will initially be offered in Hong Kong, Malaysia and Singapore Xero users.

United Overseas Bank (UOB) and Xero are in the early stages of discussion on integration, via Xero's accounting dashboard, which will enable small businesses to reduce time and resources that they put into account reconciliation. This partnership will be Xero's first with a Singapore bank.

IRAS certification
The Inland Revenue Authority of Singapore (IRAS) has now made Xero a certified accounting software after Xero has met all the technical requirements set by IRAS. This certification in the IRAS Accounting Software Register, while not mandatory, adds a certain level of comfort for small businesses that their tax obligations are met while using Xero.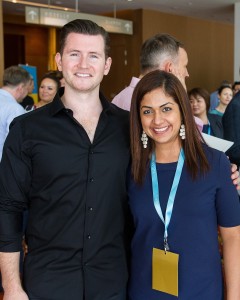 Namita Sethi, CEO of Futurebooks, and Shaun Burke, Territory Manager for Asia of Xero at the Xero Roadshow Singapore in March
Relating to Shaun Burke's speech during the roadshow, disruption is indeed evolving. Xero's ability to disrupt the otherwise 'bland' world of accounting and to align their business to industry trends effectively have made them one of the biggest cloud-based accounting software in the world. Xero's series of announcements and expansion in the region, and worldwide, shows the company's dedication to provide best-in-class business tools for companies to grow.
Futurebooks has been a staunch supporter of Xero, having been one of the first users of the software in Singapore since 2010. We share the excitement of team Xero upon hearing of their growth plans and visit to Asia via a series of roadshows. Our collective aim at Futurebooks is to help businesses grow. We support our clients in every step of their business journey and Xero has given us the potential and flexibility to help our clients in every way we can.
"Xero's announcement on the opening of a Singapore office and increasing customisation to the local market will enable an increased awareness among growth ventures of the software, more system integrators coming on board to stitch it together into a cohesive ERP-like system, and more bookkeepers and accountants trained to use the software. These are exciting times to be in for us. A bet we made on Xero five years ago is paying off," opined Namita Sethi, CEO of Futurebooks.
Drop us a note to receive a 30% off your Xero subscription.