In addition to great food and hip ambience, one key ingredient to a successful food and beverage business are the people who will run it.
Human resources are perhaps a company's biggest asset because, without a dependable and competent staff, the whole business may fall apart. So it is imperative that companies in the food and beverage industry invest on their people because, in the end, it's the people that will make their business great.
But, sometimes, the required people for your business are foreigners who need you to sponsor their work passes. It's not always easy to secure work passes, but it's not impossible.
Read more: 7 Steps to successfully setup your food & beverage business in Singapore
This is because the Singapore government has put in place a thorough requirement and rigorous process when it comes to issuing work passes. If you, as a business owner, require specialised skills for your F&B business, and you need to hire a foreign employee, then here are some of the work passes you can apply for your team:
Work visa for you or your business partners
A work visa suitable for F&B business owners is the Entrepreneur Pass (EntrePass), which is the primary type of work pass for owners of newly incorporated (or to be incorporated) Singapore companies who wish to relocate to Singapore to operate their new business. It is initially issued for one year and is renewable every year as long as the business remains viable.
The only caveat is that the business must fulfil the "innovativeness" conditions set by MOM in order to be considered, below are the requirements:
The company must be registered as (or intend to start as) a private limited business in ACRA

– If registered, the company must be less than six months old on the date you apply.
– If you have not registered, you can wait for the outcome of your application before registering.

Your company must have at least $50,000 in paid-up-capital. You need to provide a bank statement that shows at least $50,000 in a Singapore-based company bank account.
You must hold at least 30% of shares in the company.

In addition, your F&B company must meet at least one of these requirements:
Has funding from a government-accredited VC or business angel
Holds an intellectual property
Has research collaboration with A*STAR or a university
Is an incubatee at a government-supported incubator
The Ministry of Manpower has set criteria that you should meet to successfully renew your EntrePass when the time comes. The criteria set is in reference to the original business plan you have submitted, the number of local employees you hired, as well as your Total Business Spending (TBS).
Criteria for renewal of your EntrePass based on the number of years you have held the pass*: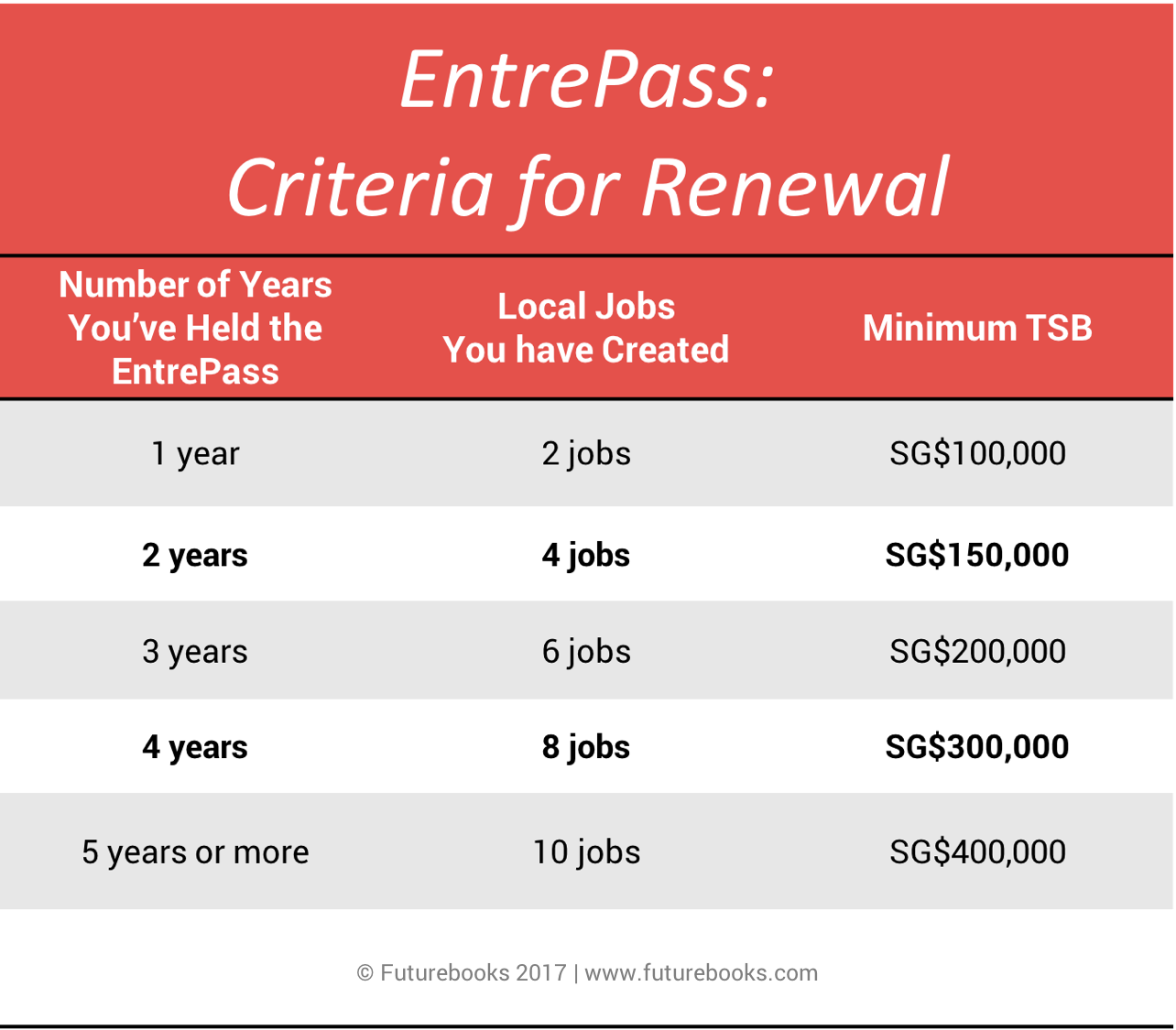 *Reference: The Ministry of Manpower
Read More: Futurebooks' services for F&B Businesses
Work visa for the Executive Chef or Maître D'
The Employment Pass (EP) is a type of work visa meant for executives and professional employees whose fixed salary must be at least S$3,600* and should be a tertiary degree holder from a reputable university. You can apply for an EP for the executive chef, marketing manager and other team members who satisfy the criteria set by the MOM.
There is no official quota system limiting the number of EPs that can be issued in one company and approval of each employment pass is at the discretion of the officer. Once approved, the pass will be valid for one to two years but is renewable as long as the applicant continues to be employed by the company.
Map out the necessary work passes for the staff of your F&B business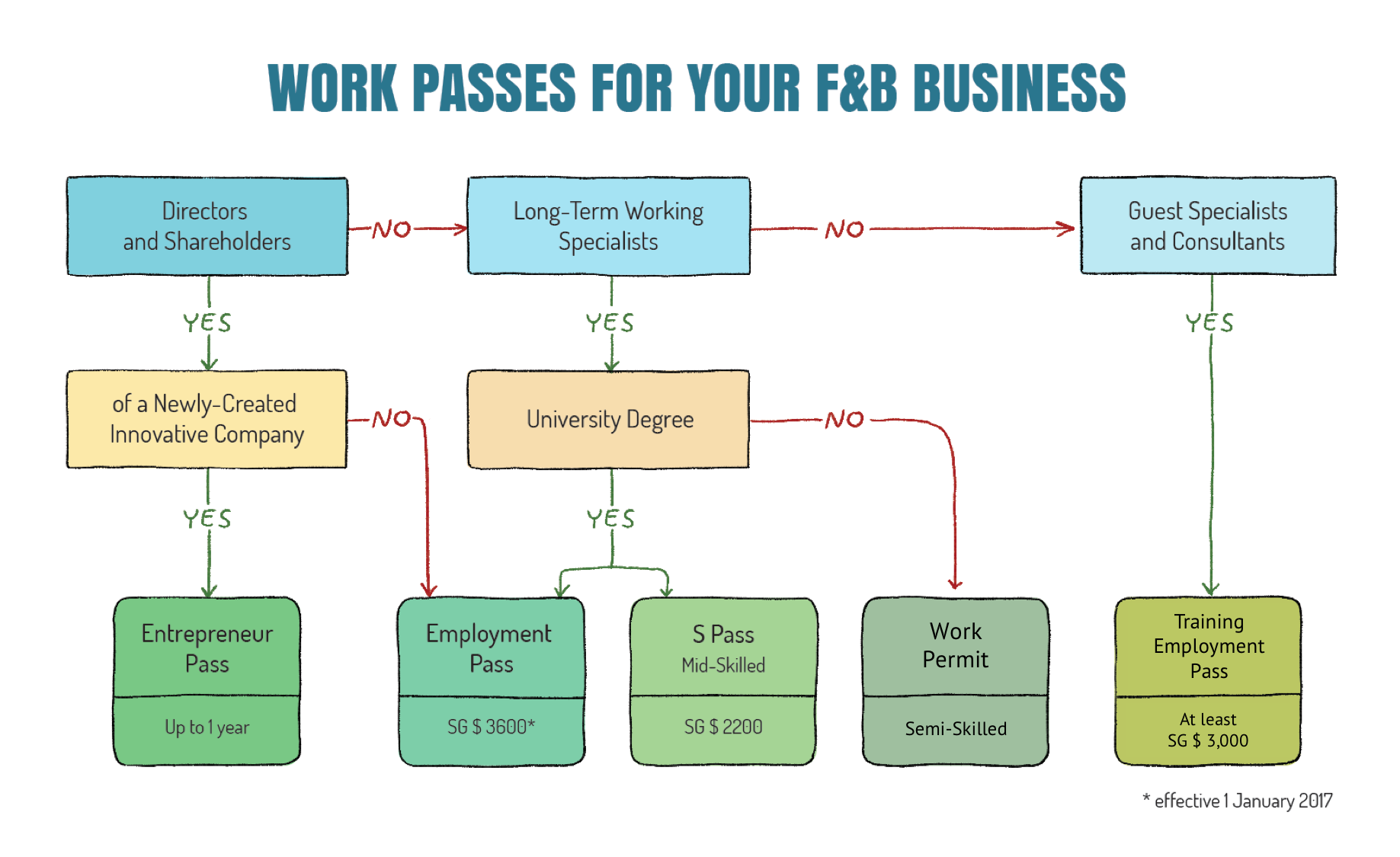 Work visa for your Baker or Cocktail Scientist
The S Pass is for your technical and mid-skilled staff members who earn a fixed monthly salary of at least $2,200. Unlike the first two passes, there is a quota for S Passes per employer. The staff member must also have at least a technical diploma to be considered for this pass, so make sure the baker you want to hire has a certification. It is initially issued for one to two years, at the discretion of MOM, and is renewable after that, as long as the applicant continues to be employed by the company.
Another type of visa that you can consider for your service staff or kitchen team is the Work Permit (WP). Work Permits are for unskilled and semi-skilled foreign workers from specific countries working in selected industries including the service sector. Citizens from Malaysia, PRC, Hong Kong, Macau, Taiwan and South Korea are eligible to apply for Work Permits.
Do not overdo the hiring of foreign workers for your team. For every S Pass and Work Permit holder you hire, a monthly levy must be paid. The rate of the levy is dependent on the number of foreign workers, as well as the "dependency ratio ceiling" or quota of foreign workers that you employ.
For F&B businesses, the allowable number of S Pass workers you can hire is up to 15% of the total number of employees (local plus foreign), while the number of Work Permit holders in your business must not be over 40% of your total workforce. With this in mind, you must consider that the more foreign workers you employ, the higher your monthly levy bill will be.
Read More: How to calculate your quota and levy bill, Ministry of Manpower
It is also important to note the medical insurance requirements if you wish to employ an employee under an S Pass or a Work Permit. Each S Pass or Work Permit holder must have medical insurance with a coverage of at least SG$15,000.
One last thing for you to consider before hiring your F&B staff is the SG$5,000 security bond you pay to the Singapore government for each non-Malaysian Work Permit holder you employ. The security bond is in the form of a banker or insurance guarantee and is put in place in order to ensure that you and your staff comply with the conditions set under the Work Permit. The bond must be purchased before your staff member arrives in Singapore.
Work visa for your Staff Training Consultant or your Guest Mixologist
The Training Employment Pass Scheme is issued to foreigners working in Singapore on short-term training assignments. If you want to bring in some foreign staff members from your overseas branch to get experience and to receive training on activities related to running the business in Singapore, you can apply for a Training Employment Pass for them.
In order for your trainee to qualify for a Training Employment Pass, he or she must be earning at least SG$3,000 overseas and must be sponsored by a well-established Singapore-registered company. This type of visa is valid for up to three months and is not renewable.
Finding the right talent for your business is hard work, and getting a work visa for them can be just as difficult. We at Futurebooks can assist you in securing the right work visa for you and your team.
Speak to us about getting a work visa for your food business in Singapore.