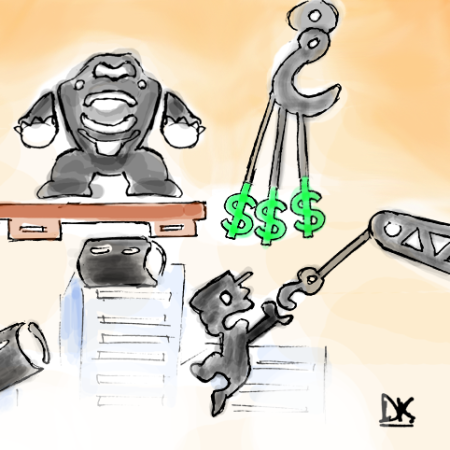 Join StartUpRIGHT and The Co for a 2,5 days startup bootcamp to gain a comprehensive and deep understanding of all the business principles required to run a successful startup.
On our session we will cover the problems entrepreneurs encounter when trying to start a company in Singapore and the solutions.

Date: April 2015 (TBA)
Time: Closed
Where: The Co, 75 High Street, Singapore 179435
Price for 2,5 days bootcamp: $450 (early bird) / $480 (RSVP)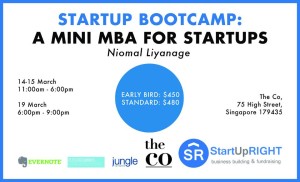 About the bootcamp
This bootcamp will teach you the business skills, startup principles and execution requirements get an idea off the ground, acquire customers, monetize it as well as how to pitch effectively to investors. The course is made up of an intense, interactive and hands-on series of modules, with case studies as well as exercises to put the theories into action. It will be a highly tailored and personalised approach, where students are encouraged to use and/or develop a business idea to apply the exercises to.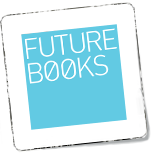 Futurebooks and Evernote are joining as mentors to share wisdom and answer questions. At the end of the course you will utilize your business acumen and understanding of fund-raising to develop a pitch deck pitch your idea to investors from Jungle Ventures.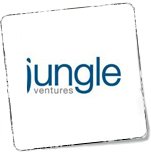 You're about to take away vast business knowledge from this bootcamp, as well as an array of tools and techniques to apply to different parts of their business.
Developing a strategy
Develop a deep understanding of the critical strategic aspects to build and grow your business.
Mapping out a business model
Use the Business Model Canvas to map out and innovate your business model.
Analysing an industry
Learn how to conduct analysis to understand your industry and competitive landscape.
Using media
Use marketing, digital marketing and social media effectively to reach and acquire users.
Applying financial models
Apply financial modelling to build forecasts and drive business decisions.
Fund-raising
Understand the fund-raising process and how to pitch effectively to investors, including creating a pitch deck.
Pitching to investors
Gain actual experience at pitching to investors and receive valuable feedback.
Networking
Have the opportunity to interact with a successful entrepreneur of a world famous startup.
Moving forward
Develop the confidence and business skills to move to the next stage.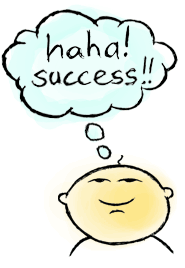 What our session will cover
The session will cover the problems entrepreneurs encounter when trying to start a company in Singapore. These include:

  Choosing the right legal entity (private limited company vs. limited liability partnership (LLP))


  Who can act as company secretary


  Incorporation + compliance matters (including Preference Shares, ESOPs and vesting schedules)


  Applying for work passes for foreign directors (employment pass (EP) vs. entrepreneur pass (EntrePass))
How the session is organised
The presentation will take approximately one hour, starting at 2pm on Sunday. Questions can be answered before the session by commenting below or during the session.
About the speaker
George Mathew is a Managing Partner at Futurebooks. A Chartered Accountant by training and a member of the Singapore Institute of Directors, he actively works with venture funded tech startups. His focus is in business structuring and acts as a Director on the board of various startups with an eye on compliance and corporate governance.
About the organisers
The Co is an award-winning ecosystem of co-working, office, meeting and event spaces located in the heart of the city.
StartUpRIGHT is a business-building boutique specialising in helping entrepreneurs start and grow their business and bottom line.