Do you want to know the difference between Sole Proprietorship and General Partnership?
Sole Proprietor
A Sole Proprietorship is a registered business owned by one person or one company. This is a good option for an entrepreneur to start lean.
Case study – Sole Proprietorship

Ana Liew, a Singapore Permanent Resident, is a home baker specialising in cupcakes and speciality cakes. She decides to register her business with the Accounting & Corporate Regulatory Authority (ACRA) to take up a contract with a local cafe chain to supply them baked goods. She will be running the business on her own, using her home kitchen to fulfil the orders. The ideal business set up for Ana is a Sole Proprietorship. She can use her home address as the registered address for the business, and act as the owner and manager for the business. Ana maintains simple bookkeeping by herself in Xero. Once a year, Ana renews her business license with ACRA.
Ana will also need to submit Form B with Inland Revenue Authority of Singapore (IRAS) every April for profits in the previous calendar year, and her return will contain the following four heads:
Revenue
Gross Profit/Loss
Allowable Business Expenses
Adjusted Profit/Loss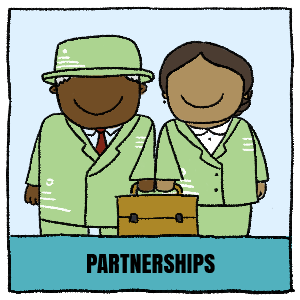 General Partnership
A General Partnership is similar to a sole-proprietorship and involves two to twenty entrepreneurs coming together with a similar business idea, with an agreement to share profits.
Case study – General Partnership

James Toh and Susan Lim, both Singapore citizens, are corporate consultants and decide to create a General Partnership through which they invoice their clients. They register their Partnership for three years right away, as allowed by ACRA. They have a Partnership Agreement which specifies a formula that each person is eligible for profits based on respective invoices raised. For matters not covered by their partnership agreement, the Partnership Act of Singapore (Chapter 391) will govern the relationship between the partners.
James is the first named Partner in the Partnership agreement and hence deemed the 'Precedent Partner' by IRAS. James has the responsibility of filing Form P with IRAS every April. For the first year, their revenue was greater than S$500,000; therefore they were required to submit to IRAS their Profit and Loss Account, Balance Sheet and a self-signed statement that the financials provided are true and correct. In addition, both James and Susan have to declare their respective share of profits from the partnership in their personal tax filings.
In year two of their General Partnership, James and Susan decide to incorporate a private limited company for its tax benefits since they have substantial revenue in the partnership.
Pros and Cons of Sole Proprietorship and General Partnerships

Cheapest to register, and minimal ongoing compliance
Receive a unique entity number (UEN) and start invoicing under the business name
Open a distinct business bank account
Unlimited liability for owner(s), since it is not a separate legal entity.
Partners are personally responsible for debts and losses incurred by other partners
No corporate tax benefits, all profits are taxed personally as per profit share agreement
---
Drop us a line if you need assistance with setting up your business in Singapore.