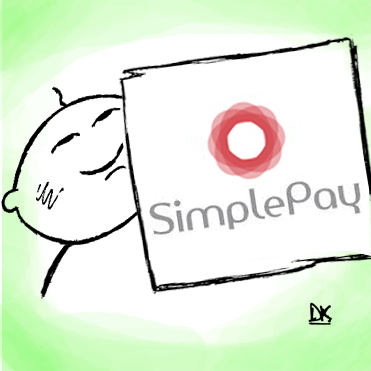 In 2013, we introduced you to SimplePay, a slick and easy-to-use payroll software designed for Singapore. Check out our first impression from the app.
We've worked with SimplePay since its private beta version and are currently using it for our internal payroll operations. Its ease of use and the customer support experience are both good.
SimplePay features
Here are some of our favourite features of SimplePay:

   Self-service payslip and leave options: This feature offers employees the ability to download payslips on demand, and even put in leave applications as well. HR personnel can then approve the leave, and leave balances are auto-calculated across categories.

  CPF submission via electronic returns: This is an excellent feature; it works just as it should! Basically, it calculates the employers' and employees portions of CPF and the respective levies. SimplePay generates an ATP file that can be directly uploaded on the CPF website to auto-fill the CPF monthly returns.

  Syncing into Xero: SimplePay integrates seamlessly with Xero. So if you are a Xero user, this works wonderfully for you.

  Add new custom item: SimplePay has this great feature where you can add "custom items" to appear on your payslips, for instance items that fall into income, deduction, allowance or reimbursement categories. Our clients use this a lot to customise payslips across ranks.
Latest updates
What we like about SimplePay is that they keep on rolling out new features when their users come across a limitation in the existing app. Here are some of the latest additions the team has launched over the past year and in early 2015, and that make payroll processing fast and fun:

Partial months worked/unpaid leave:
SimplePay uses MOM formula for calculating worked/unpaid leave, i.e. it uses the actual number of working days in the month rather than an average month to pro rata salary payable to staff.

Annual leave settings:
The default number of leave days for companies on SimplePay is 14 days. But don't worry! If your annual leave policy is different, you can change the annual leave entitlement in settings. Your staff can view their available annual leave balance and history via "leave reports", which can be generated through reports.

CPF contributions for the first or second year permanent residence (PR):
SimplePay gives you, as the employer, the ability to set full CPF contributions for your staff who are either first or second year PRs.

IRAS approved payroll:
SimpePay is now included in the list of supporting payroll vendors of the Inland Revenue Authority of Singapore (IRAS). This means that the software generates forms that are ready for submission to the tax authorities.

Reports in Beta:
SimplePay is currently developing a new set of "Financial Reports". These are in the beta–client feedback stage and will possibly take some more time to be rolled out as a finalised feature.
There are two reports under this category.
Balances – Loans, Savings and Garnishees: These will show the company the amount that employees are holding as loans or garnishees. For those of us who are not used to legal jargon, a garnishment order comes into existence when a creditor to whom an employee might owe some money attaches his "salary" to repay the debt. Thus the employer becomes a "garnishee" – one who holds responsibility to deduct the "debt owing" from salaries to an employee.
Leave Liabilities: Many companies have policies where they allow payment in lieu of leave not taken by employees. This is essentially a liability on the company. Though this is only a "provision" or a notional number, it is important to have this number, which the company should create a provision for. The report once functional, should help in computing the numbers associated with unclaimed leave.
That gives you a flavour of what SimplePay is all about. Note, Futurebooks is the first partner with SimplePay in Singapore.
Need a hand setting up payroll? Contact us.