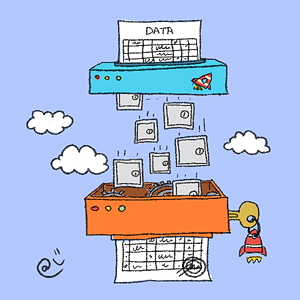 Keeping client data secure and private is one of our highest priorities at Futurebooks. We work toward achieving this with a multi-pronged approach that involves IT security, physical controls, strong non-disclosure agreements and team training.
Computer systems

All computers used at Futurebooks were recently upgraded to Unix based Macs with FileVault 2 encryption turned on. The operating systems have been hardened, the firewall configured on stealth mode and BitDefender's Business Security keeps the bad guys (viruses, malware, etc.) out.
This was a significant infrastructure investment for the company and a learning curve for the team members, but we do believe this will go a long way in creating a more secure IT environment for our office.
Futurebooks has recently gone through a system upgrade to iMacs and MacBook Pros which are secured with encryption.
Network protection

Our internal WiFi network is hidden, encrypted and cordoned off from our guest WiFi network. Futurebooks' ultrafast LAN network is accessible only by employees and has been disabled in publicly accessible sections of the office. A hardware firewall at the router keeps unwanted internet traffic out.
Website

We have hardened our WordPress platform by choosing only reputable plugins, enabling two-factor authentication, and being protected by iThemes Security Pro, a security plugin built by WordPress security experts.
Our website is SSL-enabled by security firm Thawte, so that form submissions are encrypted on their way to us. Online payments to Futurebooks are processed through Stripe & PayPal, both of which are compliant with the payment card industry (PCI) data security standard.
Our website is hosted on a Linux based virtual private server by a reputable Singapore-based company, which maintains a constant vigil for intrusion prevention.

Futurebooks new website is updated and SSL-enabled
Two Factor Authentication (2FA) and Encryption

We are very selective about the cloud applications we use, choosing only the industry's leading companies. With the introduction of 2FA to Xero in December 2015, we have implemented this step for all the major cloud applications used by the team, as listed below. Additionally, all the apps below encrypt their data both at rest and in transit.

Dropbox Business (256-bit AES & HTTPS)

Google Apps for Work (128 AES & HTTPS)

Xero (256-bit AES & HTTPS)
Two Factor Authentication successfully installed in Xero

In Part II of this "Privacy at Futurebooks" series, we will be looking at how we keep our emails secure and away from prying eyes.

Source:
Xero: https://www.xero.com/about/security/, https://community.xero.com/business/discussion/13573557
Dropbox: https://www.dropbox.com/en/help/27
Google Apps: https://apps.google.com.sg/faq/security/

Drop us a note to know more about our secure accounting & company secretarial services.