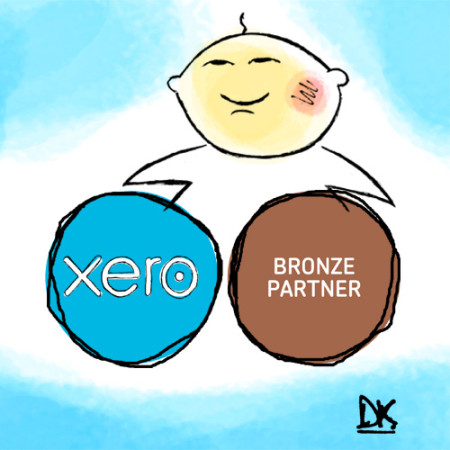 Futurebooks are Xero Bronze partners. We have helped over 20 small and large clients move from desktop-based accounting software to cloud-based applications like Xero.
Along the way we've developed a system to ensure a smooth transition.
The transition is divided into three stages:
Migration. Rescue old transactions to Xero.
Training. Face-to-face training on Xero.
Enablement. Minor Xero maintenance and assistance.
The purpose of the three stages is to move a company's accounts department from migration to enablement in the shortest possible time.
1. Migrating accounts
Futurebooks makes an ideal partner to migrate your accounts from the current system (Excel or other) to Xero.
While Futurebooks practitioners manage the bulk migration, the client is free to focus on learning Xero fundamentals. Experience has shown that if the client attempts the migration solo, they run the risk of never completing the accounts or making mistakes which cost a great deal later to repair.
To speed up the migration, Futurebooks use receipt scanners and OCR software. Depending on the volume of transactions, Futurebooks assign 1-3 person team.


Scroll right to view more
Futurebooks
Client
setup the chart of accounts, input opening balances, aged accounts, bank accounts details and customise templates;
enter a backlog of transactions;
track and identify unknown transactions;
improve practices and workflow;
provide a rescue report highlighting best practices.
support and advisory role to the migration;
learn Xero by participating in webinars, online learning and demos.
2. Xero training
At the close of the migration, the books in Xero are current and Futurebooks commence face-to-face training. Either fast or slow track training can provided depending on the competency of the accounts person.
The training is designed to teach and reinforce correct operations using Xero through guidance and one-to-one demonstrations.
Scroll right to view more
Futurebooks
Client
provide a trainer for one-to-one training;
train at the client's office or over Skype.
begin basic transactions like accounts payable;
move up to more complex tasks like bank reconciliation and payroll.
3. Enablement
The client is now capable of completing 85% of transactions unassisted. However, it is likely as the business grows, users will encounter new kinds of transactions they are unsure how to treat.
Futurebooks can continue to support Xero users as a quality control assistant.
This service provides a level of comfort for management that the books are being created correctly, and a go-to resource for users. Users keep running lists of questions that require answers, and a practitioner will close these questions at the next scheduled session.
Alternatively Futurebooks can assist with high-level computations like payroll, GST or bank reconciliation that the client prefers to outsource each month.
Scroll right to view more
Futurebooks
Client
provide quality control;
question and answer;
high level computations like payroll.
able to carry out 85% of transactions in Xero.
Presentation slides
View more presentations from Futurebooks Pte Ltd
| | | |
| --- | --- | --- |
| | Need a hand with Xero? Drop us an email. | |