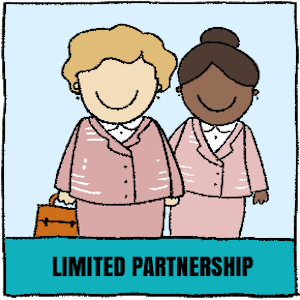 ---

Limited Partnership or LP
A Limited Partnership (LP) is comprised of at least one General Partner and at least one Limited Partner. This is a business vehicle introduced by ACRA in 2009.
Pros

and Cons
of Limited Partnership
A corporate body can act as a Limited Partner or General Partner
Liability of Limited Partner is restricted to capital contributed
Easy to register and minimal compliance
General Partner has unlimited liability, including debts incurred by Limited Partner
Limited Partner cannot take part in the management of LP, they must have a passive role in the business
An LP is not a separate legal entity
Case study on Limited Partnership
Noveau Horizons LP is a private equity fund set up by SG Ventures Pte Ltd as Limited Partner, and Raj DS Pte Ltd as General Partner. SG Ventures' liability in the LP is limited to the contribution of capital, while Raj Dhananjay Shah actively manages the LP. Raj has structured his involvement in the LP through his private limited company to effectively limit his liability as General Partner, and also so that he can be taxed on his management fees via his private limited rather than personally.
Raj DS Pte. Ltd. would have to submit Form P once a year to IRAS, while both Raj DS Pte. Ltd. and SG Ventures would have to include their respective shares of profit from the LP in their corporate tax filings.

Read More: Sole proprietor looking to convert to a Singapore Private Limited Company
Limited Liability Partnership or LLP
A Limited Liability Partnership (LLP) is a hybrid vehicle with characteristics of a Partnership and a corporate body. The partners can be individuals, companies or combinations of both.
Pros

and Cons
of Limited Liability Partnership
An LLP is a separate legal entity from its Partners
No limit on number of partners
No compliance requirement of Company Secretary, Annual General Meeting etc.
No corporate tax benefits
Separation between Owner: Manager in a Limited Liability Partnership, is not as clear as separation between Shareholder: Director in a Limited Liability Company
A private limited company may be a more investible vehicle for startups raising funding, as it allows sophisticated equity structuring such as Preferred Shares.
Case study on Limited Liability Partnership
Jag Tech Pte. Ltd., a mobile app development company, is diversifying into the provision of testing services. The primary shareholder of the company Seth Meyer, sets up Jag Tech Testing LLP, with the Private Limited company and himself as the two Partners. The Private Limited Company is named as the first (precedent) partner, and all profits are allocated to the Private Limited Company as per the Partnership agreement.
This allows Jag Tech to have a distinct branding for their testing division, limit their liability on the new service to the LLP, and get taxed at the corporate level.
---
Futurebooks have worked on structuring the companies some of the known venture capitalists and funded startups in the region with an average valuation of $3,700,000.
Drop us a line if you need assistance with structuring your company in Singapore.