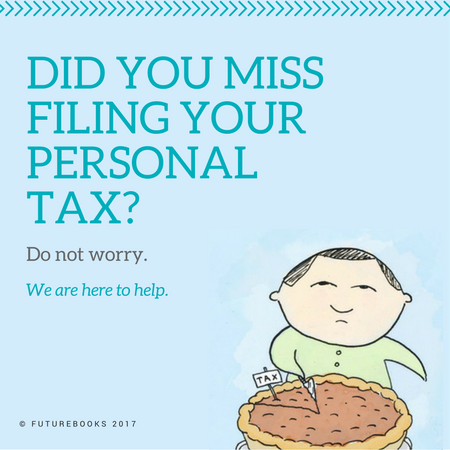 "Better late than never", or in this case, a fine or a court summon! If you haven't done so, you can still file your personal income tax NOW.
We have answered all the common questions below on personal tax filing and what you can do when you are way past the deadline. If you need further consultation, drop us a message in the message box below or send an email to team@futurebooks.com.
Question 1: I missed my deadline for filing my personal tax, what should I do?
Answer:
If you did not make it to the 18th April 2017 deadline for filing your personal tax, do not worry. You can request an extension from IRAS in order for you to file your tax return.
Futurebooks has successfully applied for an extension of late filing on behalf of our clients as well as submit the income tax return sans the late filing fee on several cases.
Question 2: I am a sole proprietor, how do I file my tax?
Answer:
Sole proprietors are considered self-employed. Therefore, your business income is treated as your personal income and taxable at individual tax rates.
Sole proprietors must file Form B/Form B1, along with your Form IR8A (personal income tax return) from March 1 to April 15 every year (April 18 for e-filing).
Once you have successfully filed your tax return, the Notice of Assessment (NOA) or tax bill will be sent to you between the end of April to September of the Year of Assessment.
Read More: Find out how you are taxed as a company director, on ESOPs, and more.
Question 3: What are the different tax rebates I can claim as a sole proprietor?
Answer:
Self-employed individuals, which include sole proprietors and partners in a partnership, can claim the following tax benefits from the government:
For those who just recently started a business, expenses incurred before commencement of business
Productivity and Innovation Credit (PIC) as long as the expenses fall under the six qualifying activities which are:

Acquisition and Leasing of PIC IT and Automation Equipment
Employee training
R&D Activities
Acquisition and Licensing of Intellectual Property Rights (IPR)
Registration of IP (Trademarks, Patents, etc)
Design Projects approved by DesignSingapore Council

Medical expenses
Business losses and unutilised or unabsorbed capital allowances
A good tax consultant can definitely assist you with identifying tax rebates applicable for your business.
Question 4: How can I reduce my personal tax?
Answer:
As a tax resident of Singapore, there are numerous allowable tax reliefs and rebates that you can claim in order to reduce your personal tax.
If you are a household who employs a foreign domestic worker, you can claim for a Foreign Maid Levy Relief.
If you have attended any course, seminar or conference that is relevant to your current employment, you can claim for a Course Fee Relief.
Allowable employment expenses that are not declared by your employer or reflected in the Income Deduction Reliefs Statement (IDRS).
If you are frequently flying overseas, you can apply for a Not Ordinarily Resident (NOR) status. Once approved, you can avail of the NOR Scheme wherein you pay tax on only that part of your employment income that corresponds with the number of days you have spent in Singapore.
With the help of your personal tax advisor, you can apply for tax reliefs that can help reduce your personal tax.
Question 5: How does personal tax rebate work?
Answer:
It was announced by the Singapore government earlier this year (2017) that all tax resident individuals will receive an income tax rebate of 20% of tax payable, up to a cap of $500.
Your personal tax rebate is calculated based on the amount of tax payable after double taxation relief (DTR) and other credits as well as the amount of tax payable before offsetting the Parenthood Tax Rebate.
You do not need to apply for this rebate. IRAS will compute and grant the rebate automatically to all tax residents.
---
The information shared above is for general guidance and informational purposes only and should not be treated as tax advice. It is best to consult with your tax advisor before reaching a decision or taking any action.
If you need assistance with filing your personal income tax, drop us a message now.