SMEs have a history of being sold IT systems that are expensive and unscalable. They would buy proprietary solutions, only to discover that their investment trapped them into using inflexible, antiquated systems.
On the other hand, SMEs which did not make the investment in back-office IT and opted to do tasks in a more manual fashion incurred higher labour costs.
Cloud computing is the answer to these issues. Cloud providers give SMEs the ability to change service providers without incurring switching costs.
Simultaneously, cloud platforms allow SMEs like accounting firms, law firms and medical practitioners to focus purely on delivering services and utilise shared cloud platforms to deliver these services reliably and to scale.
What is cloud computing
Cloud computing is the delivery of computing as a service rather than a product, whereby shared resources, software and information are provided to computers and other devices over the Internet.
In India, cloud computing is growing at a rate of four times the global average. The momentum in India has been fueled by high inflation which is driving business to seek cost savings. In Singapore in 2011, IBM invested US$38 million into cloud facilities and Dell also opened a local cloud computing center.
In Singapore in 2011, IBM invested $38 million into cloud facilities and Dell also opened a local facility.
Big benefits of cloud computing
SMEs can expect savings of up to 50% after migrating to the cloud over three years. Cloud services have no upfront fees so capital outlays are turned into operational expenditure. Cloud provides a perfect relationship between user's demand and price – it is perfectly elastic. Fees increase incrementally as users enjoy more utility.
But in the long term, cost savings is not a reason to move onto the cloud, as there is likely to be unforeseen teething problems which may equate to loss in business productivity, and result in a zero net saving.
Instead, SMEs should focus on the long-term benefits of cloud computing — a greater focus on core competency. Cloud promises to not only free SMEs from vendors, but also from daily routines which are not part of their core competency. With vastly less knowledge and in-house resources, SMEs can focus on growing their business and outsource back-office roles to service providers.
SMEs best positioned to take advantage of cloud
SMEs which fit one of the following profiles are strongly advised to consider cloud computing in their business planning.
starting a new company or division;
large IT investments in upgrades or new resources;
decision to outsource a greater number of tasks; or
move towards a decentralised workforce.
Cloud is not so beneficial for SMEs which have already made substantial investments in IT in the last 3 years.
A few cloud platforms available in Singapore
Dell
Dell have changed the way we purchase computers. Instead of buying a PC and upgrading with software, they are bundling cloud solutions with their computers.
www.dell.com.sg
salesforce.com
In the market for well over a decade, salesforce.com have a local office in Singapore. They offer CRM and tools which automate marketing.
Starts at S$25 per month.
www.salesforce.com
QuickBooks Online
Intuit, makers of QuickBooks have three packages available, all which are hosted in the cloud. No more problems with different versions of QuickBooks, or licensing for multiple computers.
Starts at S$10 per month.
quickbooks.intuit.sg/
Google docs
Imagine downloading the entire range of office applications like calendars, contacts and word processors, installing each one, and upgrading each one as new versions are released. You won't have to – manage all your contacts, email and documents in the cloud, and let Google upgrade while you get on with being productive.
Less than S$10 per month.
www.google.com/apps
Microsoft Office 365
Next time you buy a PC, consider getting the Office package on the cloud. Access Microsoft Word, Excel and PowerPoint virtually anywhere.
Less than S$10 per month.
www.microsoft.com/office365
How we manage people will change
The way we manage people and what we expect from our workforce is going to shift. Cloud is causing an outflow of human capital from the back-offices of SMEs to outsourced businesses.
SMEs will have to become comfortable with not doing business face-to-face. Communication styles will need to evolve to deal with people now potentially located in foreign countries, and not contactable by phone. When SMEs do make contact they may find themselves talking to a different person each time.
Setting clear goals from the onset and carefully considering how the service provider fits into the SME's ecosystem is key. For example, using a cloud computing solution like QuickBooks Online allows you to break the back-office task of bookkeeping into several roles, and assign each role to a different person.
Project managers can raise cost estimates and invoices;
A service provider can input office expenses, payroll and compute GST; and
Management can read reports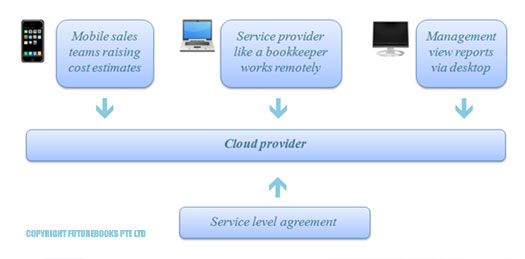 This kind of collaboration is now possible within one application via cloud. Almost all cloud services offer a level of collaboration.
5 safety tips for migrating to cloud
#1. Migrate non-system critical functions.
Offsite back-up and bookkeeping are two easy functions to migrate into the cloud. Then migrate other functions like CRM and document management. Consider how different cloud solutions might integrate.
#2. Use 30 day free trials.
Test various platforms before fully committing your firm and people. Introduce a new solution to a few staff to trial out on a real life situation.
#3. Demand service level agreements.
Beware of service providers which ask for commitment without service-level agreements. Service-level agreements with service providers set expectations and decide how the service provider is measured and remunerated. Read their terms and conditions carefully and assess any direct or indirect switching costs.
#4. Robust ticketing system.
Cloud providers will try to push users to ticket using web-based forms and read FAQs to solve problems. If their system is not well augmented to deal with different issues, the ticketing system not well built, or the organisation does not communicate clearly in writing, consider other platforms.
#5. Platform certification.
Choose service providers who are certified by a platform. These service providers will have more knowledge about how the cloud platform works, how the company is run and when new software releases are coming.
Slides from cloud computing event in Singapore
View more presentations from futureb00ks
Drop us an email