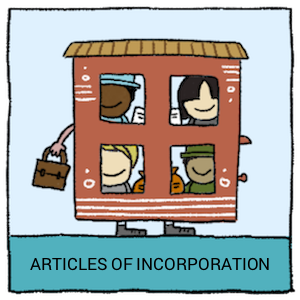 There are some terms used in the US and international contexts during the company incorporation process, such as Articles Of Incorporation, that have a different terminology in Singapore.
We clarify some of these terms below by highlighting their equivalents or the Companies Act standpoint in their regard.
What is the equivalent of the Articles Of Incorporation in Singapore?
The Constitution is defined as the equivalent of the Memorandum and Articles Of Incorporation / Association, by the Companies (Amendment) Act 2014.
Scroll right to view more
What are the other documents, in addition to the Articles, prepared prior to incorporation?
Consent to Act as first Directors of the Company (Form 45)
Share application forms for the first Shareholder(s) of the Company
Who is the Incorporator or Organizer of a Singapore Company?
Wikipedia defines an Incorporator, as 'the person who prepares and files the Certificate Of Incorporation with the concerned state.' The equivalent role in the US for an LLC is the Organizer, who signs off on the Articles of Organization.
During the Singapore company formation process, it is a Filing Agent registered with the Accounting and Corporate Regulatory Authority (ACRA) who prepares and lodges the incorporation documents. So it is fair to infer that the equivalent of the Organizer or Incorporator for a Singapore Company is the Filing Agent. This Filing Agent is often a Corporate Secretarial firm or Law firm.
Is there a concept of Registered Agent in Singapore?
Singapore does not have an exact equivalent of a Registered Agent, which is required in the US, as well as other jurisdictions such as for BVI incorporated companies.
A company does need to have a Registered Office, which is an address within Singapore, as per Section 142 of the Companies Act, that is 'open and accessible to the public for not less than 3 hours during ordinary business hours on each business day.'
All communication to the company from government bodies such as ACRA, Inland Revenue Authority Of Singapore (IRAS), Ministry Of Manpower (MOM) etc. are sent to the Registered Office. Often Company Secretarial and Law firms will provide a mailing address service, which includes acting as the Registered Office and process agent as well as receiving commercial mail.
---
We can assist you with incoporating your company in Singapore. Schedule a call with us today.