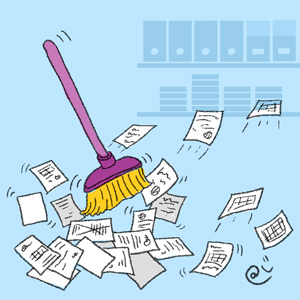 One of the biggest difficulties Singapore startups and SMEs face is keeping their accounts organised from day one. At Futurebooks, we have dealt with several companies that needed an accounting cleanup with the company's financial year end fast approaching.
This often happens in a growing small business when the main focus of most founders is to generate revenue while the administrative tasks are overlooked.
Who needs an accounting cleanup?
You could be facing an accounting backlog or a mess due to any of the following reasons and therefore need an accounting cleanup:

The company has not maintained a regular bookkeeping procedure over a period of time, which could be a couple of months, or as far back as the inception of the company.

Some elements in the company's financial records and bank accounts do not reconcile.

There is a confusion or no clear separation between business and personal expenses. This is particularly common for newly formed companies where the directors pay expenses using their personal credit cards.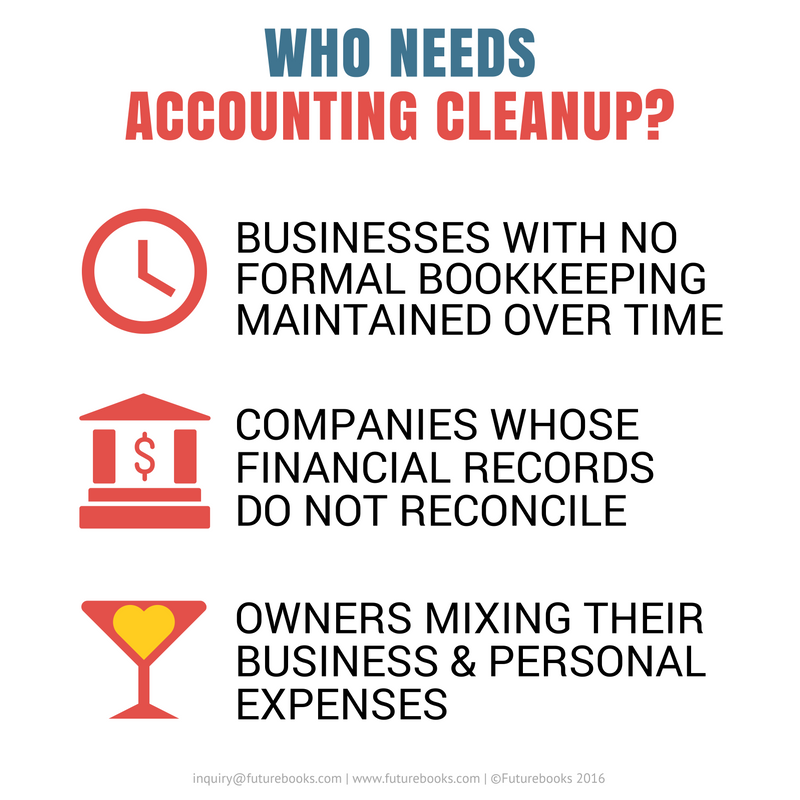 When does your Singapore business need an accounting cleanup?
Other than the scenarios previously specified, you might need to clean up your accounts when:
Your business is looking for investments or going through an investment round
Financial performance metrics are vital for proving the value and potential of your venture to investors. Something as basic as managing a balance sheet can make or break your company. You will need to prove that current accounts are in good order along with other factors such as revenue streams, acquisition costs and turnover rates.
Government mandated deadlines are fast approaching
Companies need to prepare their accounts for upcoming government-mandated submissions, such as annual returns (AR), to the Accounting & Corporate Regulatory Authority (ACRA) as well as the annual corporate tax return and quarterly GST filings to the Inland Revenue Authority of Singapore (IRAS).
You need to know how your company is performing financially
Entrepreneurs should know how their company is performing financially in order to give them an accurate perspective of the business, which enables them to make informed decisions about the company's financial future. Information such as profit and loss as well as non-financial key performance indicators are derived from maintaining a clean set of accounts from day one of the business operations.
You are migrating your accounts from desktop software to the cloud
Companies may start their accounting using spreadsheets or traditional desktop accounting software. As the business grows, the number of transactions and the users increase, and these outdated methods become more complicated, as their support for simultaneous users, and sophisticated reports are minimal.
Moving your accounts to a cloud accounting software such as Xero is a logical move, as the platform is designed to scale with your business and automate repetitive tasks. But before migrating your accounts to the cloud, an accounting cleanup may be required to resolve legacy accounting issues such as cleaning up the fixed asset list, provisions and unreconciled accounts. This accounting cleanup exercise is also an opportunity to fine tune the company's Chart of Accounts, so that the new cloud accounting software can be configured for simplicity and ease of reporting.
You recently underwent staffing changes
If you have hired a new accountant or bookkeeper for your business, or a new CFO comes in to take care of your finances, it is preferable to have your accounting cleaned up. A fresh pair of eyes to look at your financial records is recommended in order to ensure a clean transition through internal staffing changes.
You want to sell your business
One of the steps a business owner needs to prepare for when selling their business is to get the company's books in order. Financial reports from as far back as three years should be properly reviewed and prepared by an accountant so that the buyer can perform an efficient due diligence procedure on the business.

A reliable accounting firm is able to fix your accounts and give you valuable advice to help your growing business.
Why get an external accountant to clean up your accounts?
Results from Xero's Make or Break report published in 2015 showed that over 65% of business owners blame financial mismanagement for the failure of their business. Founders of small businesses often take it upon themselves to manage or fix their books. However, this route may not be the most efficient and cost-effective way. It can be time-consuming, and inaccuracies may occur, if preparing the company's account is not one of the founder's core competencies.
A rule of thumb for small and growing businesses is to outsource their accounting processes to a trusted partner until the company's transactions and revenues increase enough to warrant the hire of two full-time internal accountants. A good external accountant will provide the company much-needed financial support and allow for the following benefits:
You will be able to concentrate on your core business
One of the reasons why you needed help maintaining your books in the first place was to allow yourself the time to concentrate on strategic business decisions like product development or generating more sales. Hence, hiring a good outsourced accountant to do your accounting cleanup for you lets you concentrate on your core business.
You will have access to valuable financial information
Onboarding an external management accountant for your business means your accounts will be managed by an expert who is committed to giving you relevant numbers in good time. Receiving numbers in real time (weekly, monthly, quarterly etc..) instead of historically can make a positive difference to your business planning.
You have a trusted partner
Your external accountant's job does not end when they have finished cleaning your books. The accounting firm's expertise and experience will prove invaluable to your company especially when your business is going through an investment round, business restructuring, or enhanced financial reporting. As experts in their field, accountants can provide you with comprehensive and high-quality financial information. They can become your trusted business partner and advisor, helping you to grow your business, especially in preparing and reviewing financial statements, providing advice on pricing or taxation, cash flow analysis, or growth planning or offering tax-related advice.
As the first accounting partner awarded by Xero as their Most Valued Partner in Asia, our team of accountants are Xero certified to guide you through Xero implementation and training. Futurebooks performs accounting cleanup with the help of Xero and its extensive features and add-ons.


Drop us a note below for a customised scope for your accounting cleanup needs.