Effective bookkeeping – the right mix of software and workflow.
Jul 25
Many firms believe a software purchase will end their accounting woes. It's not until the firm unpacks the software and installs it do they realise they need a bookkeeper to configure the software, enter monthly figures and streamline how paper is collected and filed.
Most companies run a paper-based accounts system (we classify emailed pdfs as paper too), the software and the people only effective when a good workflow practice is in place. Equally, even the most highly optimised accounting system needs human intervention. It is the humans operating the software that creates value.
Right software, workflow and people
Effective bookkeeping involves choosing the right accounting software, and a workflow practice that ensures a piece of paper is handled once, and once only. Besides accounting applications, software includes apps which tackle quoting and invoicing, project management, file management and human resources.
Futurebooks customise a workflow and software model suitable for the business and the type of reporting needed.
For example design and architecture firms are obsessed with tracking P+L project-by-project. The value of their projects can run into the tens of thousands of dollars, so monitoring risk associated with each project is crucial. Workflow practice and software focus on job number tracking and tagging expenses to individual projects.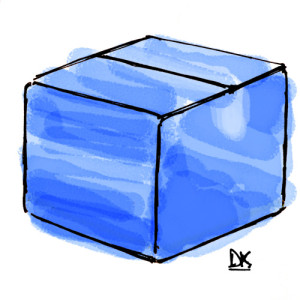 For businesses transacting lower value, but higher volumes of receivables, the focus is reducing the number of human touch points necessary to process a transaction through to the company P+L. The choice of the software and integration will largely dictate workflow and ensure the cost of processing does not exceed the value of the transaction.
Futurebooks brief clients on various workflows and provide a kit with all the stationery you need to get started.
Example accounts receivable workflow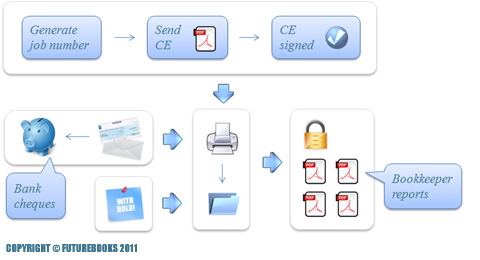 Example accounts payable workflow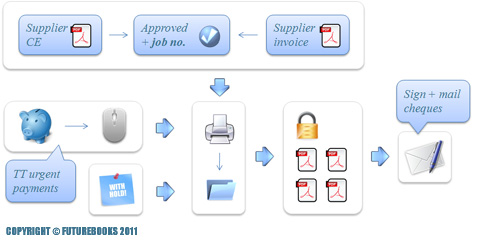 Checklist
To maintain workflow remember to do the following each month.
Avoid writing cheques. TT urgent payments.
Photocopy cheques, record job # and bank immediately.
Write job #s on all invoices and CEs. Use a red pen.
Sticky note items which require special instruction.
Download reports, and pay slips from secure server.
Avoid emailing reports. Distribute hard copies or thumb drive.
Provide us each month a concertina folder of printouts.
Indicate expenses on credit card statements using a highlight pen.
Sign and mail cheques within two days.
Drop us an email.
Leave a comment.
I'd like to learn something from you. Share your views with me and others.
Posted: July 25, 2011
Comments
comments